An event on Wednesday brought together youths, SMEs, environment groups and the business community with the common goal of sharing ideas on how to protect the environment.
Participants said that as Oman is endowed with pristine natural beauty, everyone needs to play their part to protect it. A call was made for people and businesses to care about the environment.
Oman American Business Center (OABC) and Apex Media organised Sustainability Fair at Grand Hyatt Muscat to raise awareness by bringing together different communities.
Awareness is the key
"Awareness starts at an early age and we can learn from the creativity and ideas of younger generations. Global Shapers Muscat helped to organise this event. Established through the World Economic Forum, it is a network of future leaders of Oman under the age of 30 working together with young people to explore how they can change their communities for the greater good," Marla Valdez, member of OABC, said.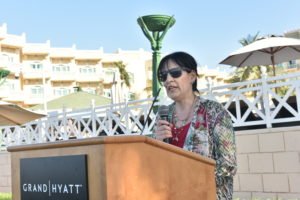 Many of the participating organisations were legacies of the Late Sultan Qaboos bin Said's vision for Oman. This included The Oman Botanic Garden which is a word-class development project to cultivate study and conserve Oman's rich native flora, Oman Animal & Plant Genetic Resources Center established to protect Oman's globally significant genetic diversity of animals, plants and micro organisms and be'ah, whose mission is to work towards sustainable waste management practices.
Joining hands with communities
Marla said that, 'we are blessed to live in a country with such beautiful oceans, deserts, mountains and natural habitats'. "We hope that by bringing together various disparate members of the community in Oman it will generate dialogue and hopefully inspire further collaboration on common cause initiatives.
We believe that we are stewards of the environment and by raising awareness we can, as a community, help protect Oman's environment. We also believe that everyone in our community has a role to play, and no contribution to the preservation of our environment is too small or insignificant."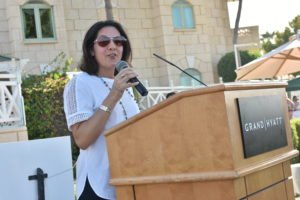 Responsibility to protect environment
H H Sayyida Tania bint Shabib al Said, president of Environment Society of Oman (ESO) was the guest of honour at the event.
ESO, a non-profit organisation was established to protect and conserve Oman's natural heritage.
"As a founding board member and president of ESO, I am hugely supportive of today's agenda, which aims to raise awareness about the importance of sustainability in Oman and to explore ways in which we can all work together to foster a culture of sustainability," Sayyida Tania said.
She stressed that the responsibility of protecting our environment is with all of us and 'encouraged everyone to think about the lifestyles they lead and the decisions they make as consumers'. Sayyida Tania highlighted the important role that students must play as environmental campaigners for a sustainable future. "You are the future custodians of our planet and it is your ideas that will shape what our future looks like."
Apex Media was the media partner of the event because of its commitment to the environment through initiatives such as the 'Bitter About Litter' and recycling campaigns.
Find more pictures on our Facebook page.
Share this post on: