If you missed the event, check out the video here.
The Oman American Business Council (OABC), in collaboration with Better Medical Solutions, successfully hosted its annual Back to Business Networking Evening on Tuesday, September 12, at the Sheraton Hotel Muscat. This event provided a platform for Omani and international businesses to reconnect, network, and prioritize their well-being while promoting the utilization of the US-Oman Free Trade Agreement (FTA). The event welcomed guest of honor U.S. Embassy Charge d'affaires Leslie Ordeman and provided a platform for dynamic business networking
The Back to Business Networking Evening brought together 180 esteemed members of the Oman business community after the summer break. Attendees enjoyed a delightful evening of culinary delights and engaging conversations, fostering new connections and strengthening existing relationships. Each attendee was given a gift voucher for use at BMS' various medical centers and clinics, and was offered a 5-10 minute health consultation in areas such as skin care, allergies, weight loss and physical therapy. As part of the event, Better Medical Solutions showcased their example of utilizing the US-Oman FTA by importing high-quality US medical devices, further highlighting the benefits of this trade agreement for Omani businesses.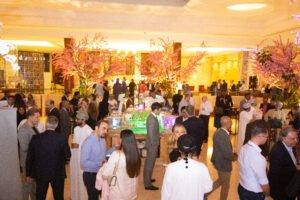 "OABC takes great pride in being the primary organization hosting networking events of this magnitude. The Back to Business Networking Evening exemplifies our commitment to fostering a vibrant business ecosystem in Oman. We are dedicated to providing platforms that enable Omani businesses to connect, collaborate, and thrive," stated Ali Daud, President and Chairman Emeritus of OABC.
OABC was honored to welcome the new Chargé d'affaires at the U.S. Embassy in Muscat, Mr. Leslie Ordeman, as the evening's guest of honor. He highlighted the strong economic ties between the United States and Oman and the shared commitment to fostering business relations. "The U.S.-Oman economic partnership has never been stronger, with trade last year soaring to record high of $4.2 billion in 2022, a 30 percent increase from the prior year," he said. "I'm proud the Embassy can support OABC's efforts to build the relationships between U.S. and Omani companies that serve as the bedrock of that partnership."
Fouad Eid, Vice President of OABC emphasized the importance of networking events like this in supporting the FTA. "The Back to Business Networking Evening not only provided an opportunity for businesses to connect, but also showcased the impact and untapped potential of the US-Oman FTA. We are proud to promote companies like Better Medical Solutions, who are importing medical devices and contributing to the growth of the healthcare sector in Oman, and we hope to see many other companies following this example in the near future."
"We are thrilled to have partnered with OABC for the Back to Business Networking Evening. It was an impactful evening for all attendees, enabling each executive to strengthen relationships and explore new opportunities," commented Khaled Kassar, CEO of Better Medical Solutions.
With over 170 member companies and as Oman's largest and most active business networking organization, OABC remains dedicated to organizing impactful events that facilitate networking, knowledge-sharing, and business growth within the Oman business community.