The U.S. and Oman have enjoyed a strong and stable relationship that dates back more than 200 years and continue to collaborate closely on regional security and stability, as well as economic prosperity and trade. In 2009, the two countries signed a Free Trade Agreement which removed most customs duties, allowed citizens to set up businesses without a local sponsor, and gave businesses and investors the right to 100% ownership of companies in Oman.
This landmark agreement has been hugely beneficial to both countries, with the US now Oman's biggest non-oil export destination, registering $2.73 billion in 2022. The US was also the second-largest foreign direct investor in Oman in the third quarter of 2022 with a total of $6.5 billion coming into the Middle Eastern country.
Due to the strength of the relationship between the two countries, the Oman American Business Council (OABC) was founded in 2003 to foster the development of commercial activity between the U.S. and Oman. Supporting the business community in the Sultanate, OABC delivers programs and events that are focused on professional development, thought leadership and high-level networking.
Hosting 30 events annually, OABC is Oman's most active business networking group, with each conference, seminar and networking event providing members access and opportunities to meet other decision-makers across a variety of sectors in Oman.
Tasked with overseeing the execution of OABC's mission is CEO Rebecca Olson. Having previously served as the Executive Director or five years, she is now looking to implement new initiatives to improve trade, develop bilateral relations and establish a stronger presence promoting Oman trade and investment in the U.S.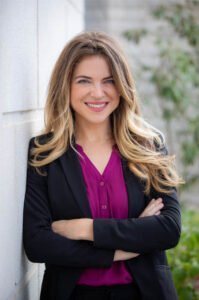 One of the ways that Olson is achieving this mandate is through networking events that bring together important members of the Oman business community and connect them with US counterparts.
Earlier this year the OABC welcomed U.S. Embassy Charge d'Affaires Leslie Ordeman to one such event which was hosted in partner- ship with Better Medical Solutions, an American company in Oman which has utilized the Free Trade Deal to import high-quality medical devices from the US.
Speaking at the event, Ordeman said: "The U.S.-Oman economic partnership has never been stronger, with trade last year soaring to a record high of $4.2 billion in 2022, a 30% increase from the prior year. "I'm proud the Embassy can support OABC's efforts to build the relationships between U.S. and Omani companies that serve as the bedrock of that partnership."
The importance of education
With many U.S. citizens bringing their families to the Sultanate, the need to create an American educational system in Oman was first recognized by Ambassador Frances Cook who in 1997 was gifted land by Sultan Qaboos bin Said Al Said in order to build a school. The following year The American International School of Muscat (TAISM) opened its doors, and it continues to deliver a high-quality curriculum to more than 500 students.

"The vision of Ambassador Frances Cook — the first female ambassador to serve in any Gulf Cooperation Council country — was not only to set up a school for Americans but for anyone desiring an American-based education," reveals Kevin Schafer, Director, TAISM.
"There is a caveat that Omani children wishing to attend must obtain special permission from the Ministry of Education, which has historically been around 10-15% of our student population. The school is incorporated as a private institution in Oman that leases the land from the American Embassy. Four of the seven people on the school board are appointees of the US ambassador, and the director of the school must be an American. It has a unique U.S. connection and will always be American in character."
Focuses on providing quality education to students and supporting their intellectual and personal growth while following the American curriculum, TAISM currently has 85 students whose family members work at the US Embassy in Oman. The school has also witnessed an increase in the number of students whose parents work for U.S. companies in the Middle Eastern nation and even some who have retired in the Sultanate.
"Some students whose parents have independent businesses and moved here are enrolled, while some retirees have children who attend our school. They are in Oman through the integrated tourist complex that allows investment in local properties and grants residence permits," adds Schafer.
"We also have parents whose children attend school here, but one parent works outside the country. It is a different world now. When American companies come to Oman, they often have employees from various countries working for them who are foreigners. These employees are often mobile and often want to keep their children in the American education system. We strive to ensure that our students are not held back in their education due to relocation. Oman offers a beautiful place to live and raise a family, with a good education system."