Members of the Oman American Business Center (AmCham Oman) can benefit from exclusive offers and discounts from member companies on presentation of their mobile application.
The below companies are part of the program and have offered member-only prices exclusively for the membership. Please email info@oabc.org to receive your member-only download link or to send us an offer.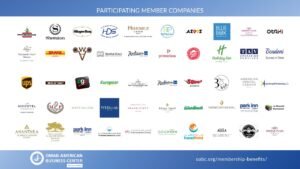 The goal of the Member Benefit Program is to foster business interactivity by fostering a streamlined referral & incentives network amongst our vast community via the OABC mobile application.  We invite our members to avail complimentary entry into this program to offer ongoing, exclusive promotions and incentives to all valued members within the OABC network.
The benefits of your participation in this program are multifold, but primarily, the Member Benefit Program enables your business to cultivate brand awareness and attract loyal customer demand to your products and services through either year-long promotional campaign on OABC's mobile application, or short-term seasonal promotions, all offers, and promotions are exclusively for members-only.
Whether you are a Premium, Corporate, or SME member, the OABC Member Benefit Program is an initiative designed to enhance your membership investment. Members can avail of all offers and discounts upon the presentation of their Membership Card.
The representatives for each account Premium (5) and Corporate (2) will have access to the mobile application.
All participating OABC member companies will require to provide the following details:
Company logo (500 x 500 pixels).
Photo of the offer: this can be a stock image or photograph of the venue, food or service. We recommend you send us an image with the correct size specified as opposed to a flyer, as this will show up nicely on the app.
Include a description: a value-added benefit / percentage discount etc. Also, include terms and conditions and the validity of the offer. The app can upload both year-long promotions as well as seasonal, one-time promotions.
Links to your social media channels and website, and a contact person and number.