The Oman American Business Center (OABC) has officially joined the US Chamber of Commerce and this affiliation marks an important step for the organisation and its members.
This is a major development with historical significance for the commercial relationship between the US and Oman, according to a press release.
Welcoming OABC to the US Chamber of Commerce, Khush Chosky, senior vice president for the Middle East and Turkey affairs at the US Chamber of Commerce, said: "Since the signing of the US-Oman free trade agreement (FTA) in 2009, both countries have enjoyed tremendous benefits from the stronger trade and investment ties. The US Chamber looks forward to working in close collaboration with the OABC to promote and enhance the important relationships with both the business communities and governments."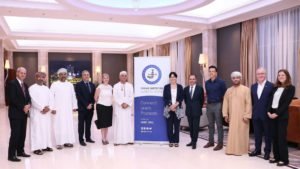 As an official member of the US Chamber of Commerce, the OABC is now part of the world's largest business federation that represents the interests of over 3mn businesses of all sizes and all sectors of the economy. With 117 offices in 103 countries around the world, the American Chambers of Commerce (AmChams) play a vital role in linking the private sectors in all these countries to the United States.
OABC president Ali Daud said, "We are proud to join the US Chamber as AmCham Oman, and look forward to building on our relationships and identifying opportunities in both the United States and in the region. Solidifying this relationship comes in line with our mission to foster economic and commercial relations between the sultanate and the US."
The US Ambassador to Oman Marc J Sievers explained the importance of the relationship: "I am very pleased the OABC is joining the US Chamber of Commerce. Being an AmCham will enable the OABC to tap into the US Chamber's vast regional and worldwide network and further promote business between the United States and Oman."
Most importantly, OABC members will be able to utilise the Oman-US FTA.
"American business interests are expanding here in Oman, and it's also happening the other way round, with more Omani companies looking for assistance in exploring US markets," said Rebecca Olson, executive director of OABC.
Share this post on: