Oman American Business Centre (OABC) held a Renewable Energy Series: Local Content Providers in Solar PV IPP Supply Chains forum to engage stakeholders to accelerate adoption of renewable energy in the Sultanate.

Bringing together decision makers from both international and local organisations, the forum was the ideal place for networking to understand needs of Omani companies and international company offerings.
"It was fantastic to see the world's largest solar photovoltaic project developers all come to Oman for this event. It was a validation of Oman's mission to diversify its energy supply and large-scale renewable energy projects," Dr Michael Tsang, OABC board member and co-founder at Shams Global Solutions said.
Apart from presentations by government and private companies in Oman on the recent renewable energy independent power projects (IPPs), an open dialogue between the interested parties were held on different topics. Topics for discussion include similarities between conventional gas-fired and permitting aspects and requirements for photovoltaic (PV) IPPs, finance and technology roundtable, local supply chain and partnership structure and organisational and regulatory aspects of contracting and joint ventures.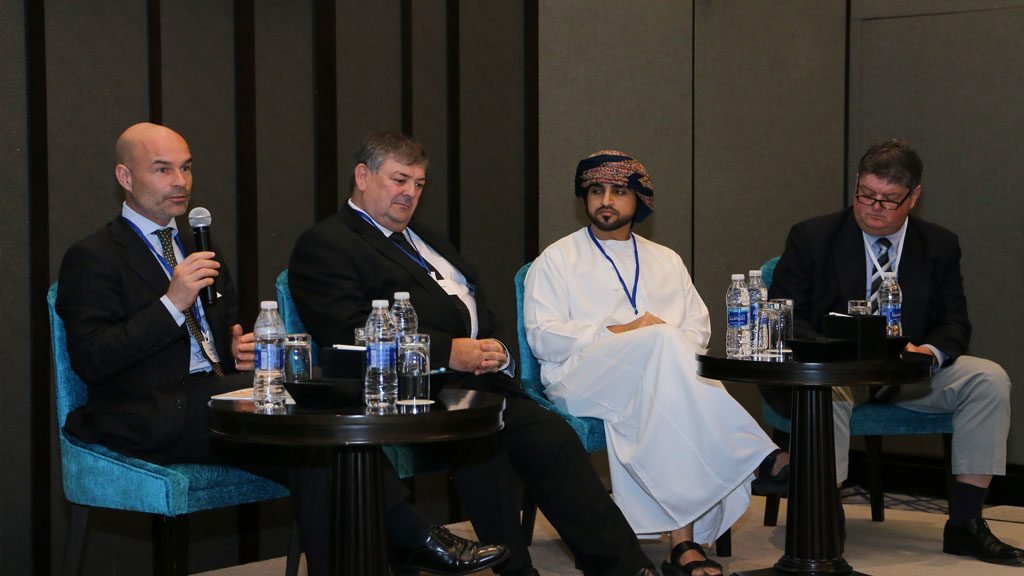 "One of our cornerstone missions is to include and develop the local ecosystem. This event enabled the whole ecosystem to hear from the key stakeholders the importance of inclusion and capacity development of the local content. Thrilled to see this dialogue start and progress further" — Dr Firas Al Abduwani, event moderator, OABC Board Member and Co-founder of Shams Global Solutions added.
"As a professional organisation devoted to helping foster commercial development here in Oman, the OABC could not have been more pleased with the outcome of the event. While emailing and online networking is nice, It's important to get people in one place, face to face, under one roof, so they can do business together," Rebecca Olson, Executive Director at OABC said.
"With key representatives from international companies from many countries, many of them in Oman for the first time, everyone at the event understood what was taking place and fully seized the opportunity, and it was a great thing to be part of. We hope to continue the OABC Renewable Energy Series with the same level of momentum and as was present at this event, and are excited for the future of solar energy in the Sultanate," Olson added.
Over 170 participants from 10 countries attended the event. This included international developers bidding for major projects in Oman who had the opportunity to engage with the local supply chain and get a better idea of potential and gap that exists in the renewable energy industry in the country.
From Times of Oman
Over 170 companies, government leaders and other stakeholders came together to participate in an In-Country Value Networking Event for developers, financiers, contractors, manufacturers, distributors, project management firms, consultants, large enterprises, Local Community Providers (LCCs), and SMEs that could benefit from being a part of the supply-chain related to implementation of current and future solar PV IPP Projects in Oman.
The event opened with a keynote speech delivered by H.E. Mohammed bin Abdullah Al Mahrouqi, Chairman of the of Public Authority for Electricity & Water (Diam).
The event provided local and international companies from various sectors a better understanding of the Sultanate's Policy towards Renewable Energy and its forecasted commitments along a time horizon (e.g. 2025, 2040), and also provided an opportunity for participants to learn of Oman's methodology for running solar PV IPP projects as presented by OPWP in its role as the sole procurer of power in Oman and by PDO as a prominent corporate presence in Oman in the self-supply generation market. The event also provided a forum for networking between local and international stakeholders (e.g. developers, EPCs, suppliers, manufacturing, logistics, IT, training) and all relevant entities with a commercial interest in current and future solar PV IPP projects in Oman.
The OABC would like to thank its partners in the event, Shams Global Solutions, Dii GmbH – Renewable energy bridging continents, Clean Energy Business Council (CEBC), MESIA and WorleyParsons for their participation in panels and discussion groups, for helping to invite international guests, and for assistance in planning the event.
Share this post on: