This week the Oman American Business Center welcomed more than 160 members to their annual iftar hosted at the Crowne Plaza Muscat.  OABC members were joined by 10 talented artists from Adatee Hyatee, a group of Omani artists who each live with a physical disability. Also present was U.S. Embassy Muscat's Chargé d'Affaires, Junaid Munir and many U.S. Diplomats.
The evening started with special remarks by OABC's Vice President Fouad Eid and the U.S. Embassy Muscat's Chargé d'Affaires, Junaid Munir. Wafa Al Harthi of Adatee Hyatee was the evening's keynote speaker. Wafa, an award-winning artist and illustrator, shared with members her incredible story of perseverance and dedication.
The highlight of the evening was a silent art auction by artists of Adatee Hyatee. 36 beautiful pieces of art were on display for members to enjoy and bid on while networking on the terrace of the Crowne Plaza. All proceeds from the art sales went directly to the artist.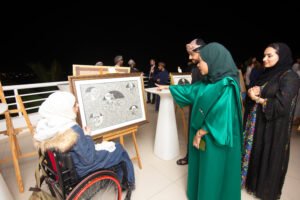 As the official affiliate of the US Chamber of Commerce in Oman (AmCham Oman), the OABC promotes understanding, partnerships & other matters of mutual economic interest between business communities in Oman and the United States. Formed in 2003, the OABC's mission is to foster the development of commercial activity between Oman and the United States.  With 30 events annually and over 180 member companies, OABC is Oman's most active business council and networking group. The Oman American Business Center (OABC) is best known for hosting high-level professional networking events and informational sessions for professionals across the Sultanate.
Share this post on: