The Oman American Business Center (AmCham Oman) hosted their first-ever family Christmas party as their last networking event of 2022.  The event was held at the Oasis Club, a private membership club supported by the U.S. Embassy.  Over 100 OABC members enjoyed a night of festive networking while their children were busy making Christmas crafts and decorating cookies. Friends and families also enjoyed a pop-up photo studio by OABC member Sarah Hale of Booma Photography and 3rd Street Donuts provided delicious donut Christmas Trees.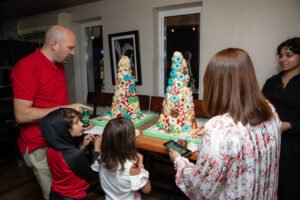 Family events were introduced to AmCham Oman earlier this year and based on positive responses will continue to happen several times throughout 2023.
As the official affiliate of the US Chamber of Commerce in Oman (AmCham Oman), the OABC promotes understanding, partnerships & other matters of mutual economic interest between business communities in Oman and the United States.
Formed in 2003, the OABC's mission is to foster the development of commercial activity between Oman and the United States.  With more than 25 events annually and over 160 member companies, OABC is Oman's most active business center and networking group.
Share this post on: