This post is to encourage all OABC member companies to support small businesses during this difficult season.  As we are all aware, business is tough now, and especially tough for newly established businesses, small companies, or those who've had to close temporarily.  This is a good time for SME's to think creatively and find ways to keep going, and when they do…it's our job to support them.
Would you check out the below ways to shop local and encourage your fellow member companies?
Fresco Oman: Order a kid-friendly pizza-making kit, for a fun night at home. Deliveries also available on WhatsApp +968 24989876
Mai's Salads: Get delicious fresh salads delivered daily. Deliveries available on +968 71219479
3rd Street Donuts: Have donuts delivered to friends or employees who are still working (or enjoy some yourself!) Salam gallery: +968 94182674, Al Hail: +968 96311333
Bomba Burrito: Open for delivery and takeaway.  Order gift cards for burritos now and use or give them later. Contact Ahmed at +968 9913 7590
Al Wadood PRO Services: Consult with an experienced Omani PRO on WhatsApp, phone or email at +968 98292949 or info@alwadoodholdings.com
Arabia Experience Institute: Take online Arabic classes in the comfort of your own home. Contact Nasser at +968 9399 9391.
Zayr: Purchase a gift card, redeem later for a home-cooked Omani meal or cooking class. Contact Hamed at Info@zayr.om
Mumtaz Mahal: North Indian cuisine, 30% discount and delivering up to Qurm on Talabat and Akeed
Woodlands: Authentic South Indian Cuisine. Deliveries up to Qurm on Talabat and Akeed.
Haagen Dazs: Everyone's favorite ice cream. Available for a drive-thru, Talabat and Akeed.
Shabestan: Majestic, authentic Iranian cuisine available on Talabat.
The countdown sports lounge: Stay safe, stay home, and curbside order you next comfort and pick up at the pavement outside the lounge.
Gift cards are a wonderful way to support these businesses now, then give as gifts or enjoy their services later when the situation improves.
Please follow our social media channels to learn about other ways to support businesses during this time. You can find us on Facebook, Instagram, Linked In and Twitter.
Business as usual will return, and until then, we know the OABC community will practice kindness and patience in support of each other (and excellent hand-washing skills!)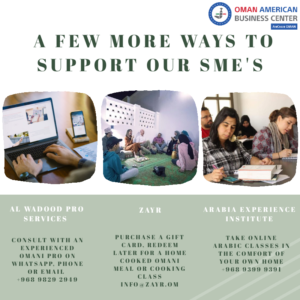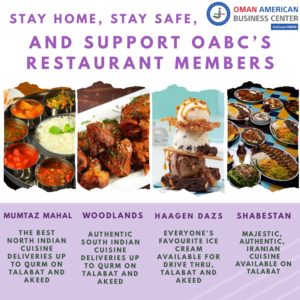 Share this post on: