In line with its mission to foster the development of trade and commercial activity between Oman and the United States, the Oman American Business Center (OABC) hosted an informational webinar on March 3, entitled 'Introduction to the Export-Import Bank of the United States (EXIM),' in partnership with the U.S. Embassy
Muscat.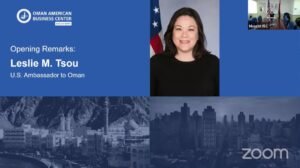 The session featured opening remarks by OABC Vice President Fouad Eid, H.E. Asila bint Salim al-Samsami, Undersecretary of the Ministry of Commerce, Industry, and Investment Promotion, and U.S. Ambassador Leslie Tsou, followed by a presentation by Rick Angiuoni, Business Development Specialist and Regional Director of Africa, EXIM.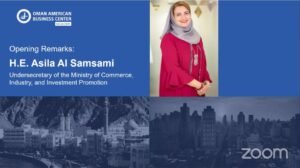 Mr. Angiuoni discussed the International Buyers Program, with loan guarantees and direct loans for international companies, long-term financing of up to 14 years, and details on accessing specific opportunities. He also led the Q + A.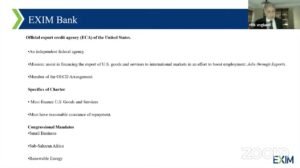 If you were unable to attend or would like to review the session, please find the full recording 
here
 and the presentation here.
Rick also expressed his willingness to be contacted by members, so please save his address for your records: rick.angiuoni@exim.gov.
What is EXIM?
The Export-Import Bank of the United States (EXIM) is the official export credit agency of the United States. EXIM supports the purchases of US-made capital equipment and ancillary services by creditworthy international buyers that cannot obtain credit through traditional trade finance sources. EXIM offers trade financing solutions and helps turn business opportunities into real transactions.
EXIM does not compete with private-sector lenders but provides financing products that fill the gaps in trade financing. It assumes country and credit risks that the private sector is unable or unwilling to accept. EXIM also helps to level the playing field for U.S. companies by matching the financing that other governments provide to their exporters. In more than 85 years of operation, EXIM has supported more than $400 billion of U.S. exports to international markets.
Share this post on: