On Wednesday, September 14, 2022 Oman American Business Center premium members were
invited to a special reception at the residence of H.E. Leslie M. Tsou, U.S. Ambassador to Oman. The guest of honor was Mr. Thomas Bruns, Regional Senior Commercial Officer for the Gulf, and Commercial Counselor at the U.S. Embassy in the UAE. Throughout the evening our members had meaningful discussions with the Ambassador, Mr. Bruns and other U.S. government representatives on strengthening the bilateral trade relationship between the United States and Oman.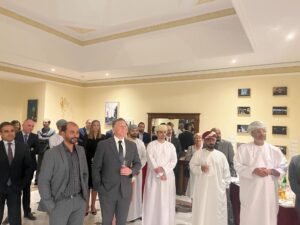 As the official affiliate of the US Chamber of Commerce in Oman (AmCham Oman), the OABC promotes understanding, partnerships & other matters of mutual economic interest between business communities in Oman and the United States. Formed in 2003, the OABC's mission is to foster the development of commercial activity between Oman and the United States. With 30 events annually and over 180 member companies, OABC is Oman's most active business council and networking group. The Oman American Business Center (OABC) is best known for hosting high-level professional networking events and informational sessions for professionals across the Sultanate.
Share this post on: