There was an air of intrigue and inspiration on the lawns of the Intercontinental Muscat as the OABC hosted the 2nd Annual Oman Sustainability Fair on February 28, 2023. This event was designed to bring the Oman community together to raise awareness and showcase local sustainable initiatives.
13 schools participated in this year's event, together with SMEs, environmental groups and corporate entities. The highlight of the event was the high school competition which recognized students for efforts. The winners of the competition were:
Overall Winner – The Sultan's School Eco Club – "Sustainable Agriculture"
Most Innovative Idea – British School Muscat – "MODA (Moisture Detecting Assistant)"
Best Presentation – Qurum Private School – "Zero Organic waste to Oman landfill Project (ZOOP)"
Most Practical Implementation – ABA Ecological Society (EcoSoc)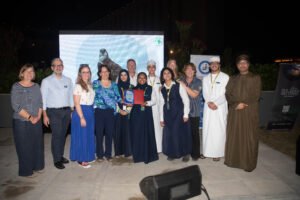 The competition was judged by a team of environmental experts, including Dr. Ali Akaak, board member of the Environment Society of Oman (ESO), Ulrich Emmer, Managing Director at Bauer Nimr and Elayna Locke, Marine Scientist, at Five Oceans Environmental Service.
Marla Valdez, OABC board member, who chaired the event, commented "it was truly inspiring to see the work done by the students, and it give us hope to see such passionate environmental champions".
Fair visitors and participants spent the evening visiting the displays of the more than 25 participants while enjoying the music of Move Green.
Share this post on: