After Oman and the US announced a new scheme which allows the citizens of both the countries to get ten-year multiple-entry visas replacing the earlier system where the visas were valid for only two years, Omanis and Americans alike have welcomed the decision saying it will further boost trade relations and open up more opportunities between the two countries.
While Omanis have been getting ten-year visas since January this year, US citizens started getting the same from last week onwards. In remarks to Muscat Daily, Rebecca Olson, executive director Oman American Business Center (OABC), said, "As the international affiliate of the US Chamber of Commerce in Oman, the Oman American Business Center is pleased with this move to further facilitate trade and commercial development between the US and the sultanate.
"Many of our members often travel back and forth and this will make things easier for all. There are still many opportunities for those who wish to take advantage of the US-Oman Free Trade Agreement, which will continue to benefit both nations after this ten-year mark."
As Oman's free trade agreement with the US marks ten years, the move is a complementary step towards good relations.
Talal al Subhi, executive director of Rohn Products International Arabia, said, "The new system will obviously bring more businesses between both the countries. It is a good move because before we used to get visas every two years but now we will do so once in ten years."
However, Subhi informed that even though the visa is issued and valid for ten years, entry to the US is not fully guaranteed as a few questions will be asked at immigration there.
"First-timers need to understand that entry is not guaranteed even if they have visas and the entry is subject to the approval of immigration officers at the port of entry who will ask a few questions," he said.
Subhi and his American partners in tower manufacturing plant in Sohar have suggested that Oman Air should start direct flights to the US.
"Oman Air should consider starting direct flights to two or three cities in the US and this will boost further the businesses between both countries. And by having direct Oman Air flights, this means there would be counters to cater to the vetting of travelers from Oman and in case of anything, they would be informed before departing to the US," he said.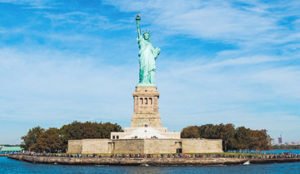 Rhon is one of the American Omani partnership companies and has set up 10,000 towers. It has also constructed the tallest tower in Oman at a height of 279m.
Marla Valdez, an American lawyer based in Oman, said, "I believe this new ten-year visa extension is a significant milestone in the longstanding relationship between the US and Oman and a development that should further extend the bilateral cooperation at many levels."
She added, "As a board member of the Oman American Business Center, as well as being both a US citizen and an Oman resident, I obviously feel very proud of this achievement. I am confident that it will encourage tourism and business between the two countries, and that it will lead to other positive measures going forward."
Mundhir al Alawi, who fell in love with American donuts during his studies in the US, and later founded 3rd Street Donuts in Muscat, said, "I travel to the US three times a year and this move is great and our travels to the US are now hassle-free. The move will enhance many other business opportunities. It will be a complement to the free trade agreement with the US."