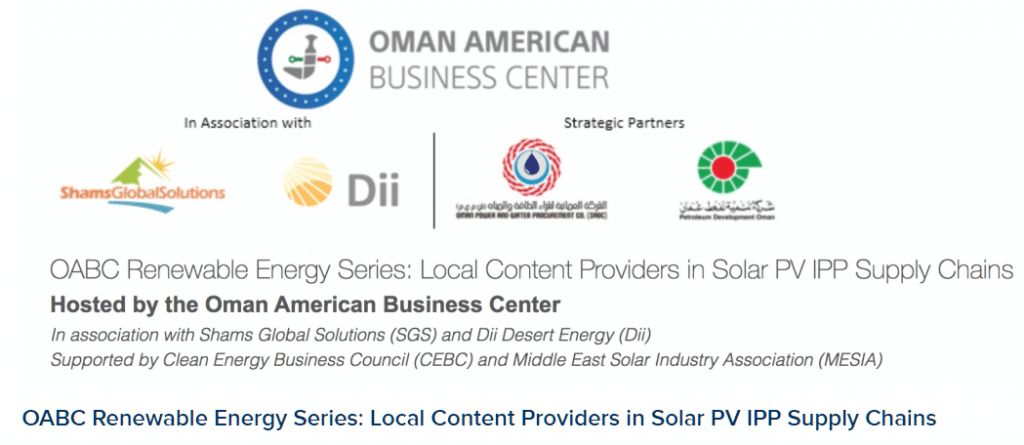 The Oman American Business Center (OABC) would like to formally invite potential stakeholders to participate in an In-Country Value (ICV) Networking Event for developers, financiers, contractors, manufacturers, distributors, project management firms, consultants, large enterprises, Local Community Providers (LCCs), and SMEs that could benefit from being a part of the supply-chain related to implementation of current and future solar PV IPP Projects in Oman.
The event will be held on March 13th, 2018, at the Hormuz Grand Hotel in Muscat, Oman (Near Bank Muscat HQ) in collaboration with PAEW, OPWP, PDO and AER as well as Solar and Oil & Gas Professional Groups (e.g. Dii, OPAL, MESIA and EU-GCC). 
A networking buffet lunch will follow the event.
08:30 – 09:00….Registration and networking (Juice, coffee, and other refreshments)
09:00 – 09:15…..Welcome and introduction by OABC
09:15 – 09:30…..Keynote Address: PAEW
09:30 – 09:50…..Presentations by OPWP
09:55 – 10:15……Presentations by PDO
10:15 – 10:30……Short Break (Juice, coffee, and other refreshments)
10:30 – 11:15……Discussion Panel (Examples of successful ICV initiatives in Oman and the region & The IPP Model in Oman)
11:15 – 11:30…….Short Break (Selecting networking round tables)
11:30 – 13:00……Structured networking (Rotations of round-table networking)
13:00 – 13:05……Closing remarks by OABC
13:05 – 14:30……Lunch Buffet (And further networking)

Purpose of the event:
Provide an opportunity for participants to learn of Oman's methodology for running solar PV IPP projects as presented by OPWP in its role as the sole procurer of power in Oman and by PDO as a prominent corporate presence in Oman in the self-supply generation market.Provide local and international companies from various sectors a better understanding of the Sultanate's Policy towards Renewable Energy and its forecasted commitments along a time horizon (e.g. 2025, 2040).
Provide interested solar PV IPP developers a better awareness and understanding of local content providers and Local Community Companies (LCC) in Oman, highlighting successful ICV (in-country value) examples.
Provide a forum for networking between local and international stakeholders (e.g. developers, EPCs, suppliers, manufacturing, logistics, IT, training) and all relevant entities with a commercial interest in current and future solar PV IPP projects in Oman.